30.10.2017 - 31.10.2017
Welcome to 10th Annual Seminar of DIMECC!
The seminar will be arranged on October 30-31 at Radisson Blu Marina Palace Hotel, Turku. Last chance to register here!
Please see the updated program below (click picture to see it bigger), and download the printable version here where you can see the detailed programs of DIMECC SIMP and S4Fleet Final Seminars.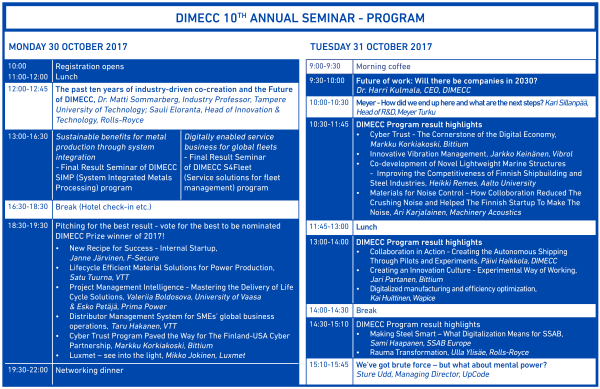 DIMECC Annual seminar is free of charge. However participants who register but do not attend (and do not cancel their registration latest on October 23th to doris.pryjma@dimecc.com or +358 40 840 8790) will be charged a no-show fee of 150 € + VAT.