17.11.2021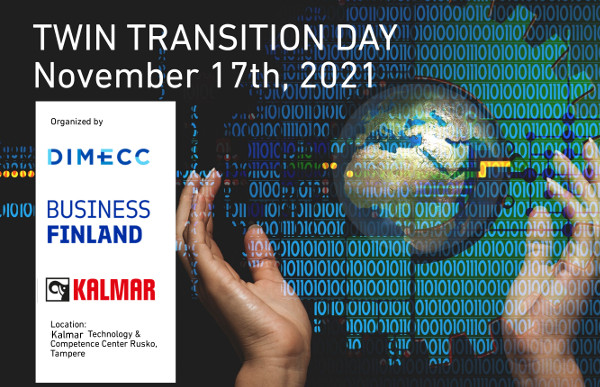 Twin Transition Day – 14th Annual Seminar of DIMECC is organized with Business Finland and Kalmar
Time: November 17th at 9-18
Location: Kalmar Technology and Competence Center Rusko, Tampere
Twin Transition Day – How digital transformation and sustainability development drive companies to success?
Presentations from leading manufacturing and technology companies, latest news on research & development, funding & collaboration opportunities and talk on sustainability, AI and security!
Not just talks, but possibility to see this all in action at Kalmar Technology and Competence Centre in Tampere, where energy-efficient, safe and intelligent machinery and automation solutions are developed.
Networking (according to the regulations in November)!
Best industrial party of the year!
If you leave your contact information here, you will be noted when the registration opens.