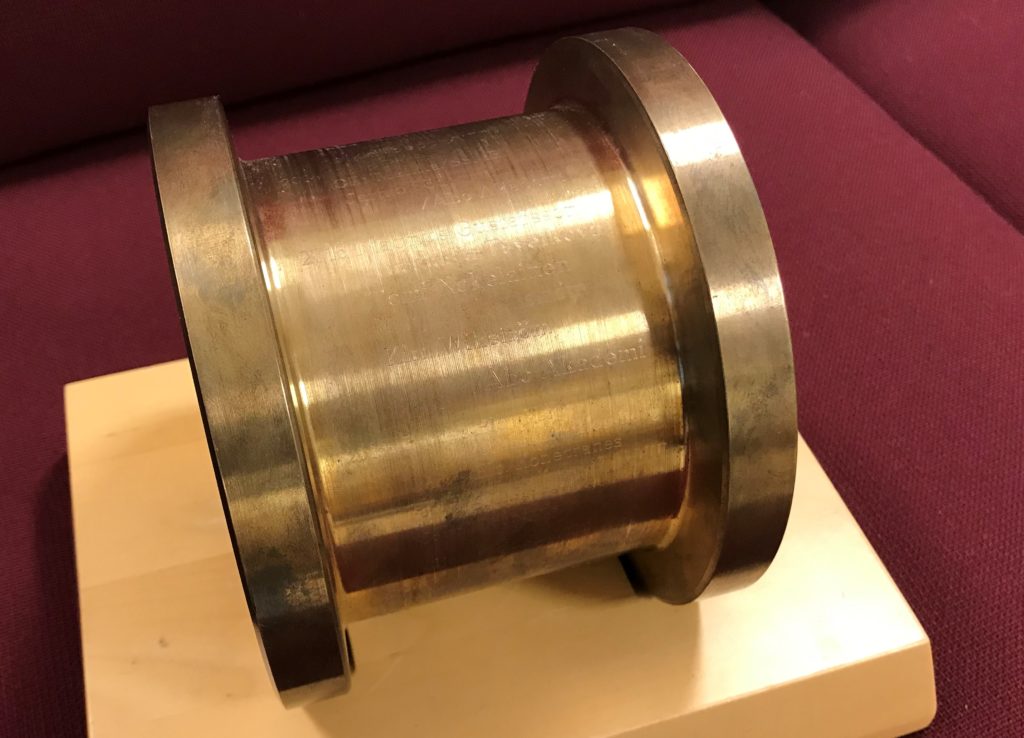 DIMECC Prize is donated by Konecranes Plc. It is explosion-proof crane end carriage wheel made from solid brass.
What is DIMECC Prize?
DIMECC Prize is an annual prize given to the best DIMECC act. Last four years the competition has been about the best result in our programs.
DIMECC Prize winners
2022
Konecranes: Active Participation in the InDEx Program and Exemplary Co-creation in Programs and Ecosystems
Research and Innovation Director Matti Kemppainen and Research Engineer Juhani Kerovuori, Konecranes
Find the related press release here.
2021
Brighthouse Intelligence: Developing the Smart Fairway and Remote Pilotage Technologies
Managing Director Markku Sahlström, Brighthouse Intelligence
Find the related press release here.
2020
Orion Pharma: Systemic use of PoDoCo program to speed up building competencies in R&D
Professor Antti Haapalinna VP, External Research and Partnering, R&D, Orion Pharma
Find the related press release here.
2019
Glaston and Tampere University: collaboration between an industrial company and the University at its best
The collaboration has been effective especially in DIMECC MIDAS Project
Kai Knuutila, Digitalization Manager, Glaston Corp.
Heikki Huttunen, Professor, Tampere University
Find the related press release here.
2018
NAPA and Norsepower collaborated in data verification and analysis of Norsepower's Rotor Sail Solution
Michael Haranen, NAPA
Pekka Pakkanen, NAPA
Antti Salovaara, NAPA
Tuomas Riski, Norsepower
Jarkko Väinämö, Norsepower
Find the related press release here.
2017
Cyber Trust Program Paved the Way for The Finland-USA Cyber Partnership (Cyber Trust)
Markku Korkiakoski, Bittium
Tapio Frantti, University of Oulu
Read more about the program at www.cybertrust.fi, or take a look at related press release.
2016
Knowledge sharing solutions for mobile field service personnel (S-STEP)
Pontus Blomberg, 3D Studio Blomberg
Joona Elo, Konecranes
Jaakko Hakulinen, TAUCHI
Juha Parviainen, KONE
Jouni Törnqvist, Bronto Skylift
Eija Kaasinen, VTT
Read more e.g. here.
2015
Uber of the seas (REBUS)
Åbo Akademi:
Magnus Gustafsson
Anastasia Tsvetkova
Tomi Nokelainen
Magnus Hellström
Kim Wikström
Learn more on press release, FIMECC Newsletter, result video and its press release.
2014
Higher material efficiency in iron making – More sustainability in steel making (ELEMET)
Timo Paananen, SSAB
Olli Mattila, SSAB
Jarmo Söderman, Åbo Akademi
2013
Zero Power Sensor Network (EFFIMA)
Nadine Pesonen, VTT
Jinsong Song, VTT
Ville Viikari, VTT
Ilkka Marttila, VTT
Kaj Nummila, VTT
Heikki Seppä, VTT
The presentation of this result can be found here.
2012
Understanding and controlling delayed cracking of low-nickel austenitic stainless steels (LIGHT)
Juho Talonen, Outokumpu
Suvi Papula, Aalto
Risto Ilola, Aalto
Hannu Hänninen, Aalto
Result related press release here.
2011
With gesture controll farewell to buttons (UXUS)
Matti Nurminen, Fastems
Markku Turunen, TaU
Pertti Saariluoma, JU
Mika Käki, Idean
Related video here.
2010
Digital microhydraulics – solenoid-actuated micro valve concepts (EFFIMA)
Tapio Lantela, Aalto
Maarit Juhola, TUT
Matti Karvonen, TUT
Matti Linjama, TUT
Lasse Söderlund, TUT
Read also related press release and animation.
2009
FIMECC act: Significant work done for EFFIMA program's launch
Ismo Vessonen, VTT
Jukka Ylijoki, Metso
---