November 23, 2022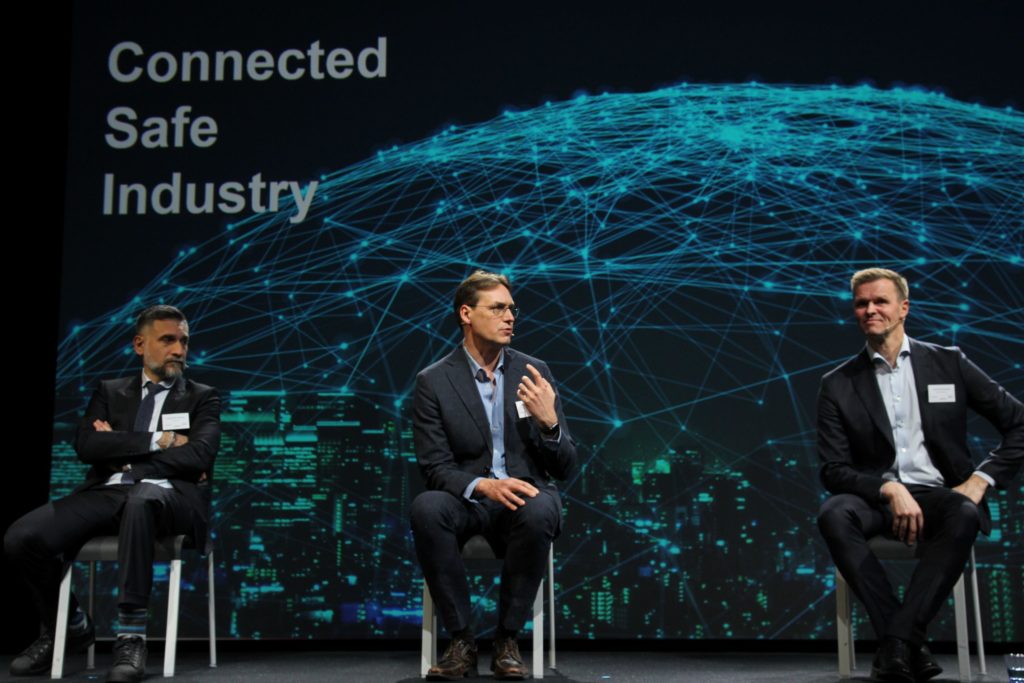 Co-creation between companies a key to future in the Connected Safe Industry event organized by DIMECC, Business Finland and Nokia.
The current geopolitical situation challenges the industry. The Connected Safe Industry event, which brought together the key factors of industry and research, concentrated on the situation, where industry must build a networked operating model and effective connections in the changing global situation.
" Finnish industry is very ready for this, since we have a culture of being prepared for certain changes, in comparison to countries who have not," says Harri Kulmala, CEO of DIMECC Ltd.
The focus of the day, organized by DIMECC, Business Finland and Nokia, was how companies cooperate more widely and thoroughly in order to achieve better results. The event was held at Nokia's Executive Experience Center (EEC) in Karakaari, Espoo.
"Business Finland's funding has enabled innovation together with the best Finnish players. We are delighted about this as well as the co-creative innovation activities taking place within DIMECC. We are moving fast in our enterprise offering and constantly adopt new technologies for realizing Industry 4.0 with private wireless connectivity and beyond, together with ecosystems around us," says Tuuli Ahava, Director of Enterprise Solutions at Nokia.
Business Finland currently hosts two programs where the main themes of the day are evident, Digital Trust and Sustainable Manufacturing.
"We are on a mission to raise the growth rate of national economy to new hights by increasing investments into research, development and innovation. Renewal is much needed in many industrial sectors in particular and the Leading Company campaign of Business Finland is an essential effort in this. The missions verbalized and driven by the leading companies are an open call to collaborative action to renew industries widely. All missions are presented on the Business Finland website and we hope that they inspire companies in Finland widely to joint collaboration within the missions," says Toni Mattila, Head of Sustainable Manufacturing from Business Finland.
"In order for us to succeed in the mission of accelerating growth and renewal of industries, efficient cross-pollination between industrial players and those who specialize in data, cybersecurity and connectivity is essential," says Kirsi Kokko, Head of Digital Trust, Business Finland.
Co-creation on the rise
Wärtsilä's Sustainable Technology Hub (STH) in Vaasa shows a concrete model of cooperation that works across company boundaries. The FAME ecosystem's (Finnish Additive Manufacturing Ecosystem) 3D printing open experimentation center AM Campus, located in the Hub, openly shares facilities, equipment and information about 3D printing and their technical solutions.
"We believe that together with customers, partners and universities we create future solutions, best respond to the ever-changing demands of the market and make our production carbon-free," says Giuseppe Saragó, Director of Manufacturing Excellence, who presented Wärtsilä's cooperation model at the event.
DIMECC Ltd, which celebrated its 15th annual seminar at the event, brings together experts from industrial companies and research institutes in ecosystems, research programs or other services that focus on, for example, product development, future technologies or new business.
"The growth of co-creation is also reflected in the growth of DIMECC's operations, because in 2021 we grew by 38 percent, and this year by about 10 percent. At least the amount of R&D work done within our framework in industry has increased, and this is also evidenced by the significant increase in the number of ecosystems we lead and the number of members in our ecosystems", states Kulmala.
Nokia is involved in the FAMN ecosystem (Finnish Advanced Manufacturing Ecosystem) led by DIMECC and in the AISA project (AI based Situational Awareness) facilitated by DIMECC, where industrial automation applications using artificial intelligence and high-speed wireless communication connections are developed.
More information
Harri Kulmala, CEO, DIMECC Ltd. harri.kulmala@dimecc.com +358 40 840 6380
Toni Mattila, Head of Sustainable Manufacturing, Business Finland toni.mattila@businessfinland.fi +358 40 500 9909