November 23, 2022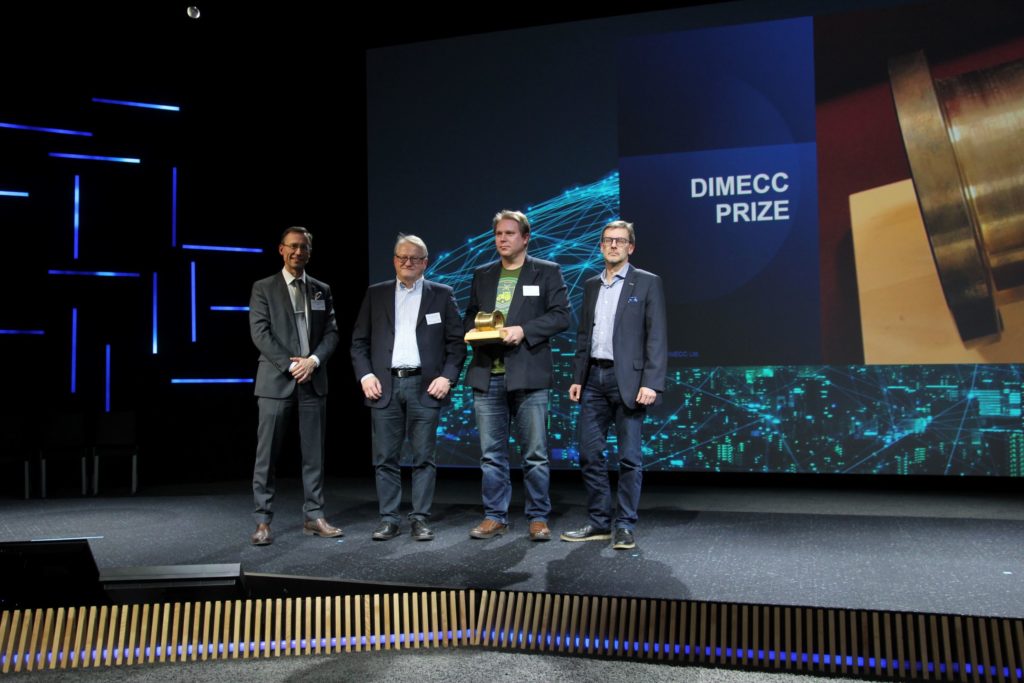 Konecranes was awarded the DIMECC Prize 2022 for active participation in the InDEx program and exemplary co-creation in programs and ecosystems.
The DIMECC Prize is an award for cooperation between companies and research organizations. It has been awarded since 2009. The prize is a brass, explosion-proof crane end carriage wheel, which was donated as a prize by Konecranes.
"The carriage wheel has great symbolism within DIMECC because when it rotates, it moves things forward. As a company, we see great value in moving forward through technological innovation, both through our internal work and with partners such as DIMECC. The co-operation with our InDEx partners has been fruitful and it is a great honor to have the award come back to us for a year", says Matti Kemppainen, Director, Research and Innovation at Konecranes.
"Konecranes is an exemplary company in collaboration. In cooperation programs, there is always a risk that companies and research institutes are implementing things in their own silos, but Konecranes is actively and proactively involved in developing with others. The InDEx program was a good example that even Covid-19 did not make them silo themselves. Even though factory visits were very difficult at the time, they were able to implement the smart factory prototype together with other industrial companies and research faculties", says InDEx Program Manager Seppo Tikkanen from DIMECC Ltd.
In the intelligent factory prototype implemented in the InDEx program, data sharing and common interfaces were tested. In the experiment, Konecranes, Danfoss and Fastems integrated their functions on the same platform, which served as a prototype of the distributed control system of the intelligent factory.
Various IoT devices transmitted information to the crane, and based on the information received, the crane was able to perform material transfer tasks automatically as needed. The European IDS (International Data Spaces) platform was utilized in the transmission and processing of data generated by Fastems and Danfoss equipment. The intelligent factory was the most extensive test of the IDS platform in Finland and Europe.
Konecranes is equally active in DIMECC's other co-creation activities, such as the FAMN (Finnish Advanced Manufacturing Network) Ecosystem.
Research and Innovation Director Matti Kemppainen and Senior Research Engineer Juhani Kerovuori from Konecranes received the DIMECC Prize on Wednesday in Espoo. The annual award was presented by DIMECC CEO Harri Kulmala at the company's 15th Annual Seminar. The seminar focused on the Connected Safe Industry and was organized together with Business Finland and Nokia at Nokia's Executive Experience Center at Karakaari, Espoo.