September 21, 2023
The interactive virtual world brings new opportunities to the training, planning and remote operations of the shipyard and shipbuilding. New technology increases remote work opportunities and thus makes global operations more environmentally friendly. In the multi-user virtual world, or metaverse, training and instructions are also addressed simultaneously to all employees of the multilingual shipyard.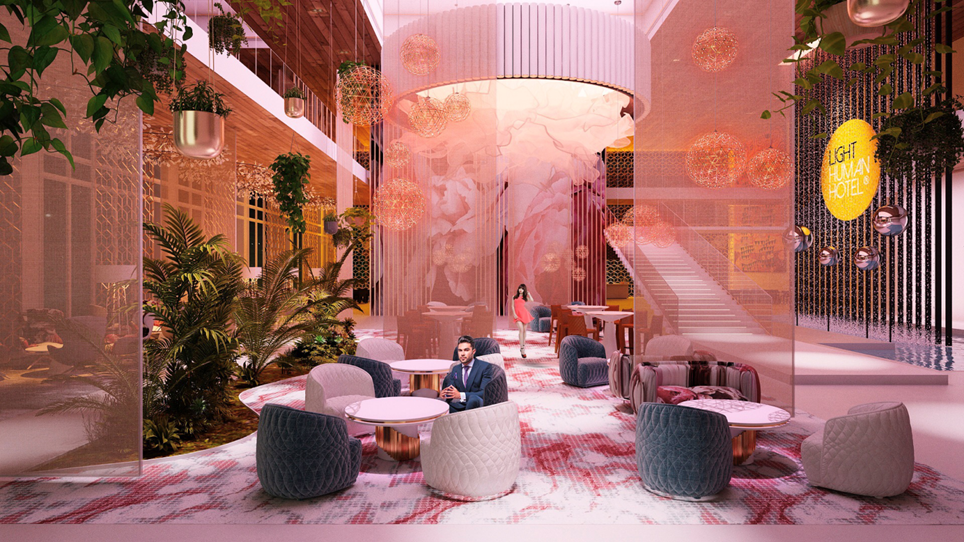 The Necoverse project aims at the development and utilization of new training, planning and operating environments in shipbuilding. The main part of the project is a metaverse, which creates shared interactive three-dimensional experiences with the help of virtual reality, augmented reality and videos. The virtual shipyard environment operating in the industrial metaverse offers new opportunities for many people, from interior designers to trainers of shipyard workers.
The two-year 5.5 million euro Necoverse project is part of Meyer Turku's NEcOLEAP research and develoment ecosystem, which aims to develop a climate-neutral cruise ship concept by 2025. In Necoverse, new collaboration tools are being developed for the Meyer shipyard, which improve energy efficiency in training, commissioning, planning, operation and maintenance.
"The industrial metaverse is currently attracting a lot of attention worldwide, and Nokia, among others, specifically sees the industrial metaverse coming to fruition in the first phase, significantly earlier than, for example, the consumer-oriented metaverse. In many ways, Finland is in the role of leading the way here, because we have strong know-how in the technology industry and ready-made ecosystem models that enable the key players to jointly implement solutions that enhance training, planning processes and operational activities," says Dr. Mika Luimula, Head of Research at Turku University of Applied Sciences.
The companies dSign Vertti Kivi & Co, Finpeda, Hollinki, Kiwa Inspecta, Lingsoft and Meyer Turku, as well as the research institutes Aalto University, Turku University of Applied Sciences and VTT, are participating in Necoverse, piloted by Turku University of Applied Sciences and industry's co-creation company DIMECC. The project is financed by Business Finland, research organizations and partner companies.
The virtual world is a global workspace
Cruise ships always want to offer passengers newer and better experiences. It also requires renewal from designers. The interior architecture office dSign Vertti Kivi & Co, involved in the Necoverse project, is looking for solutions for this in the industrial metaverse.
"We want to train our designers to cooperate in an environment where it doesn't matter in which country the different actors are located. Currently, about half of our business is international, so we are looking for solutions where location is not a decisive factor for joint operations. The fact that we get to design customer experiences in the new virtual world is unprecedented and I'm looking forward to it. It is important not to fly and gather in the same room for planning. It is also a more environmentally friendly solution," says Interior Architect Vertti Kivi.
In the new environment, we will also be able to test unprecedented solutions, for example bringing theater effects, 3d reflections, lights and sounds to the space planning of the ship.
"At Necoverse, we are researching how to change the atmosphere of the ship's interior so that one space becomes three completely different spaces during the day. With mood changes, we could create a story and a fairy tale that gives the customer a wow experience. We also want to involve the customers in deciding what kind of facilities they would like to spend their time in," Vertti Kivi describes.
In addition, dSign Vertti Kivi & Co wants to make it easier to distinguish the responsibility and sustainability of different material solutions.
Speeding up product development
Among the companies participating in Necoverse, Kiwa Inspecta's goal is to develop remote inspection and remote evaluation techniques that utilize metaversum to increase energy efficiency and reduce travel in inspection and evaluation tasks.
"Remote functions are already commonplace in many industries to some extent, but the term currently refers more to remote monitoring and control functions. As industrial metaverses become more common, it will be possible for us to produce testing, inspection and evaluation services remotely controlled in virtual worlds. Our role in this project, together with research partners, is to investigate under what conditions and methods of operation such remote functions can be implemented. The research results also help people outside the inspection industry to create new services," says Business Manager Juha Vesanen from Kiwa Inspecta.
Lingsoft creates a basic solution that facilitates multilingual communication in the metaverse. Hollinki, who has a background in an architectural office, takes care of the quality of the user experience by focusing on tools aimed at managing and improving the quality of the virtual space. Finpeda's goal is to expand metaverse-based education by introducing more realistic visualization and use of the senses, as well as real-time monitoring of interaction.
"The project takes the industrial metaverse to a concrete level and enables us to verify the technology's potential also from a business perspective. With the help of Metaversum, global cooperation can be done flexibly and sustainably, which speeds up and improves product development", says Dr. Sanni Siltanen, who leads Necoverse at DIMECC Ltd.
Link to project page