February 12, 2020
Digitalisation and increased levels of autonomy in transport are expected to take leaps forward in the coming years. This development can help in creating safer, more efficient, sustainable, and reliable service chains to meet the requirements for a better quality of life and global prosperity. The port-to-port logistics chain is being disrupted by the digitalisation trends driving for increased level of autonomy in logistics operations as well as demand for reducing emissions. Both trends create business opportunities for Finnish companies.
Sea4Value program fulfills national agenda
The Sea4Value program is based on the national strategies and programs. The development of marine industry has a strong national support in Finland, which has been highlighted in the Ministry of Transport and Communications maritime strategy that reads "Finland is a maritime nation… Good maritime connections are vital for the competitiveness of Finland's businesses and its economy and for Finnish society in general. Finland is very dependent on shipping for its national prosperity and wellbeing."National programmes supporting this strategy include the National growth programme for the transport sector (2018-2022) and Artificial Intelligence programme. On European level, the EU Green Deal aims at an ambitious goal of enabling zero-emission port operations by 2030. These are the core ideas behind Sea4Value programs.
Sea4Value program has two ongoing projects:
A third project for Sea4Value program is under preparation.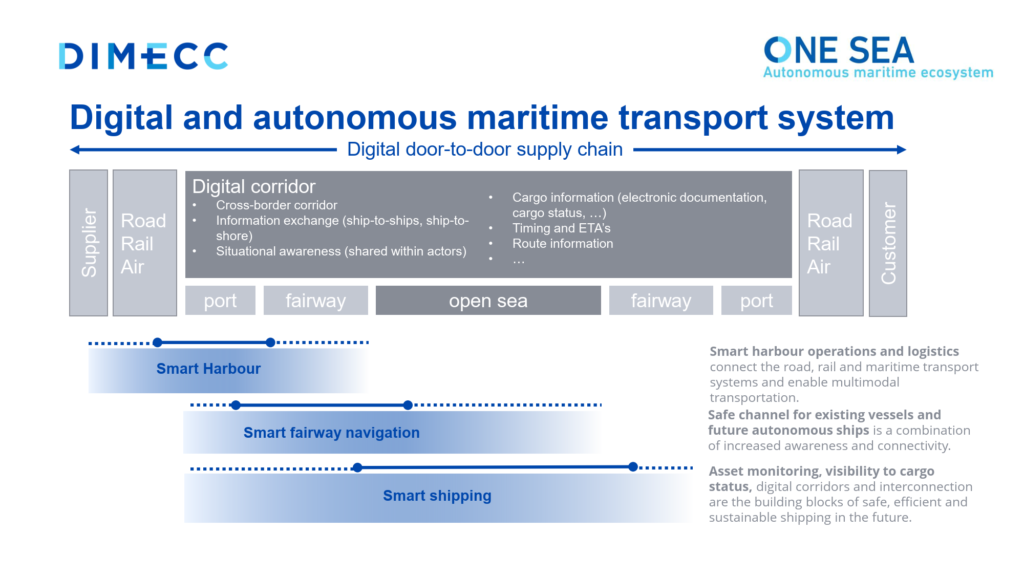 SMARTER and Future Fairway Navigation projects take steps towards achieving One Sea vision
One Sea ecosystem is a growth engine and the platform for enabling smart, autonomous, remote controlled and digital technologies in the maritime industries. The vision of One Sea ecosystem is to create the world's first autonomous maritime transport system by 2025. Future Fairway program improves the safe navigation for existing vessels and lays foundation for autonomous vessels of the future. SMARTER increases the level of automation in ports to meet the forthcoming needs of autonomous traffic and business.
Program Manager Sea for Value:
Dr. Seppo Tikkanen
Senior Ecosystem Lead, DIMECC Ltd.
+358 (0) 40 840 2780
seppo.tikkanen@dimecc.com
Industrial partner links:
Research partner links:
Funding partners:
Sea4Value in media:
Turun Sanomat 16.4.2021 Ensimmäinen etäluotsattava laiva satamaan ensi vuonna – "Turvallisuus korostuu kaikessa" 
Osto&Logistiikka 23.2.2021 Helsingin ja Turun satamien digitalisointi alkamassa
Promaint 17.2.2021 Saariston sensoritestiasema kerää tietoa älyväylää varten
Sea4Value press releases
The Archipelago's Sensor Test Station Collects Data for the Smart Fairway
The ports of Turku and Helsinki get Faster, Safer and Greener