June 29, 2021
It is time to get digital!
Digitalization and sustainability of supply chains has passed the peak of hype curve and is starting to sound more tangible. We at CaaS Nordic believe this is opening a major opportunity for the first movers who can prove the benefits of this fundamental transformation of logistics. Therefore we have joined forces with the One Sea ecosystem and DIMECC Ltd in joint quest for creating the smartest transport corridors for benefit of our trade and industry.
And there are many reasons why just now:
• Logistics digitalization has become a focal data space when building data sharing model and governance for European single market within the Data Act. The upcoming European Data Act is set to enhance data access and interoperability across EU.
• Obvious sustainability driver is the widely committed Paris Agreement on climate change, where the EU is a global standard-setter with reducing EU emissions by at least 55% by 2030.
• The European Union Transport Ministers met on June 3rd 2021 and stated commitment to a more sustainable, inclusive, intelligent, safe and resilient transport system. This meeting underlined importance of digitalization and sustainability of logistics.
• The ELECTRONIC FREIGHT TRANSPORT INFORMATION (eFTI) implementation will be the public -private supply chain data sharing engine for the EU. The transport ministries of Estonia, Finland, Hungary, Latvia, Lithuania, Poland expressed on May 27th 2021 support for Achieving an interoperable electronic freight information exchange system in Europe.
• New concrete computational EU data sharing platform for data sharing is built by the EU DG Move /Inea initiated FEDeRATED Platforms project that has started federation of other platforms – such as DTLF/SG1 – eFTI, FENIX, ERA, UNCEFACT, EDI3 and IATA ONE Record – in order to create true multimodal data sharing platform under EU governance. The FEDeRATED model of ontologies allows for easy adoption with other platforms. CaaS Nordic has direct visibility to this approach through its members – Vediafi Ltd and Traficom – who participate the FEDeRATED project.
• The FEDeRATED project has also raised question whether logistics sustainability should be enhanced by data sharing and emission measurements in supply chains. We need to reach a holistic view of all stakeholders' multimodal supply chain efficiency and sustainability. Therefore, it is mandatory to test and prove suitable governance structure for data sharing.
Collaboration across ecosystems
CaaS Nordic together with One Sea ecosystem and DIMECC have prepared the European Digital Innovation Hub (EDIH) initiative called 5STAR eCorridors. This EDIH initiative has been selected as one of Finland's EDIH candidates for coming 3-7 years. One crucial part of our EDIH approach is supporting parallel business driven projects that have clear synergy with the EDIH targets. Hence we have decided to take the driver's seat in speeding the eFTI implementation with support of our ecosystem – enterprises and authorities in our region.
In the May 2021 presentation by Finnish Ministry of Transport and Communications for Decision in principle of logistics digitization there was encouragement to create a development plan for logistics digitalisation research & development and to develop innovation activities providing support for EU project funding application.
Accordingly on June 6th we published the white paper with our innovation activity initiation. This was done in our successful international webinar with involvement of Estonian and Finnish ministers and heads of transport as well as business representatives. The occasion reached 110 participants who created vivid discussion around the topic.
For the webinar audience we organized a remote workshop. This workshop was organized under the project: "Transport corridor Uniting International Joint Aspirations in the Northern dimension", coordinated by Finnish Ministry of Transport and Communications and Traficom. To summarize outcome of the workshop, we would like to highlight the importance of PPP collaboration, which is needed to promote eFTI and digital logistics. Public organizations should provide top-down guidance and private sector should concretize this approach, with bottom up actions. In future, we should collect such actors with tacit knowledge together as it seems that much is already happening in North-Sea Baltic corridor. However, actions are fragmented and those must be harmonized, which is needed to provide tools for preparatory actions among various stakeholders. We would also like to highlight those concrete actions – such as eFTI pilots and preparation projects – that are needed to ensure that all actors are ready, when eFTI comes in force.
Our way to make it digital: Large-scale eFTI trial initiative
To respond to the EU and regional data sharing challenge CaaS Nordic published on the initiative for large scale piloting of ELECTRONIC FREIGHT TRANSPORT INFORMATION CATALYZING SUSTAINABLE GROWTH AND VITALITY IN THE NORTH-SEA BALTIC CORRIDOR.
Thereby we see need of both public and private stakeholders on the North Sea Baltic Corridor to joint large scale trial that would pioneer implementation of eFTI in multimodal supply chains with particular focus on the practical issues and bottlenecks that the consignors and consignees need to solve.
This would include generating domestic and cross-border logistics recommendations for eFTI implementation – such as
 Securing key benefits
 Avoiding worst pitfalls
 Data sharing use for enhancing sustainability of the supply chains
 Competence creation requirements
 Interoperability test requirements
 Test before invest
The key stakeholders of the proposed large-scale trial would be:
CaaS Nordic is the driving ecosystem that has built connections to Finnish and European stakeholders. To secure sufficient scope we have invited Traficom as the project lead and DIMECC as the technical coordinator for this eFTI-proposal that is to be made in the coming autumn.
Export and import industries utilizing North Sea Baltic corridor with their use cases and KPIs for digitalized logistics:
Maritime cluster
Circulation and waste management
Paper and pulp industry
Metal and machinery industry
Technology industry
Agriculture and food industry
Wholesale
Authorities testing of national access point requirements and authority data exchange
Customs and border control
Transport agencies
Ministries
Supervisory authorities
With this initiative for large scale eFTI-trial on the North Sea Baltic corridor we thus invite the regional and EU partners to a four-year journey that will transform our current mode of logistics to paperless and sustainable supply chains that will improve both our economies and our environment.
Please join the North Sea-Baltic digital journey to become the smartest transport corridor.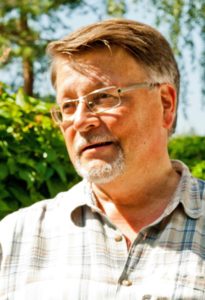 Matti Lankinen
Caas Nordic Orchestration