September 10, 2019

The Industrial Data Excellence, DIMECC InDEx –  program is the first program initiative under the Intelligent Industry ecosystem. The vision of the InDEx-program is to unlock the value of data as an enabler for the next industrial revolution centered around artificial intelligence in the Finnish manufacturing industry.
Unlocking the value of data is much more than one enterprise making better use of their existing data. It requires that the entire industry will operate all through the intelligent use and sharing of data. InDEx-program will take this unique perspective and opportunity focusing on data sharing in manufacturing networks between multiple partners.
Currently only a fraction of the value of data has been captured in manufacturing sector and for this reason InDEx (Industrial Data Excellence) aims to build a data community and Common Data Space for industry in Finland. This requires effective data sharing, including adequate analytics, between the value network partners. The InDEx-program drives effective data sharing between value network partners with the aim to unlock the value of data in the manufacturing sector.
The Common Data Space defines tested and verified rules and methods as well as practicalities for data sharing in manufacturing networks.
Three strategic targets:
1. DRIVE FINNISH INDUSTRIAL DATA COMMUNITY
Common Data Space drives the establishment of Finnish Industrial Data Community, a network of actors utilizing Common Data Space.
2. NOVEL VALUE CREATION
Common Data Space forms the basis for novel data ecosystems opening new value creation possibilities for all the value chain partners.
3. INTERNATIONAL & SCALABLE
Common Data Space will leverage existing and emerging standards and technologies and drive international standards for data sharing.
THIS IS JOINT PATH TOWARDS DATA ECONOMY!
PROGRAM PARTICIPANTS
Industrial partners
Konecranes, Cargotec, Danfoss, Elekmerk, Fastems,
HT Laser, Nokia, PrimaPower, Raute, SSAB and TietoEVRY
Research organisations
Aalto University, Tampere University , University of  Turku, University of Helsinki, University of Jyväskylä, University of Vaasa and VTT Technical Research Centre of Finland.
Facilitation and funding partners
The InDEx-program is funded by the companies and Business Finland.  DIMECC facilitates and organizes program realisation.
PROGRAM STRUCTURE:
The program work will be driven by two industry led application domains: smart chain and smart factory. The application domains form the full chain of operations for smart manufacturing, full digitalized industrial practices with connectivity in the entire value chain between smart equipment, facilities, products and processes.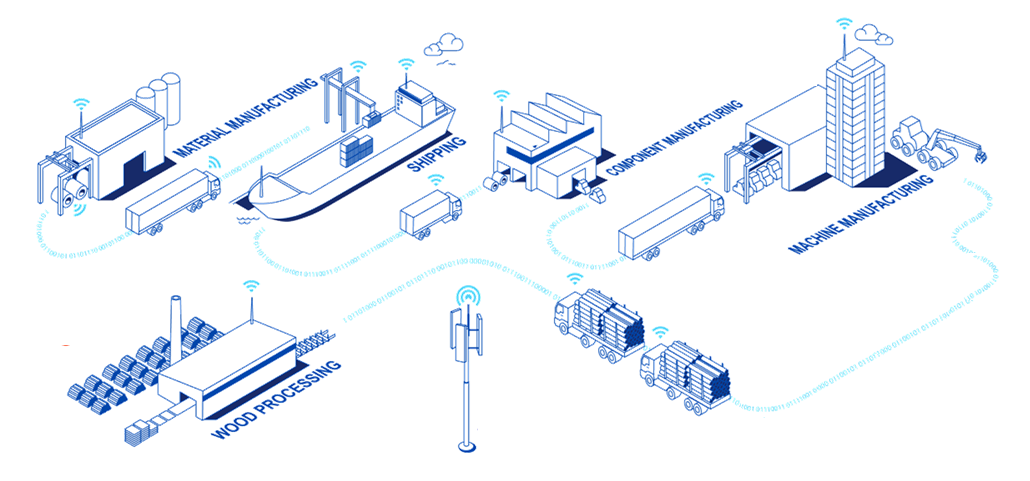 PARTNER COMPANY DRIVEN EXPERIMENTS
Smart Factory
Smart Factory Connectivity
Prescriptive Maintenance
Manufacturing process excellence with AI
Smart Chain
Material information flow in value chain
AI-assisted demand-order-delivery process
Manufacturing logistics
RESEARCH ORGANISATION WORK PACKAGES
Novel connectivity solutions & technologies for collecting and delivering data
Advanced analytics methods for processing data
Ecosystem business models for creating data-intensive solutions in ecosystem
Contact Program Manager seppo.tikkanen(at)dimecc.com  Tel: +358 (0) 40 840 2780
Schedule: 2019-2022
InDEx Final Seminar takes place 19th of May, 2022 at Torni Hotel Tampere, at 9.30-16. Register for the event. 
ARTICLES:
Read more in STT Info press release in Finnish and English 
Better plywood with artificial intelligence
HT Laser's logistics data development improves services
HT Laser digitalized the New Product Introduction Process
Prima Power revolutionizes sheet metal processing with Cloud Manufacturing – Quotation in seconds
Industrial partner links:
Research partner links:
Funding partners: